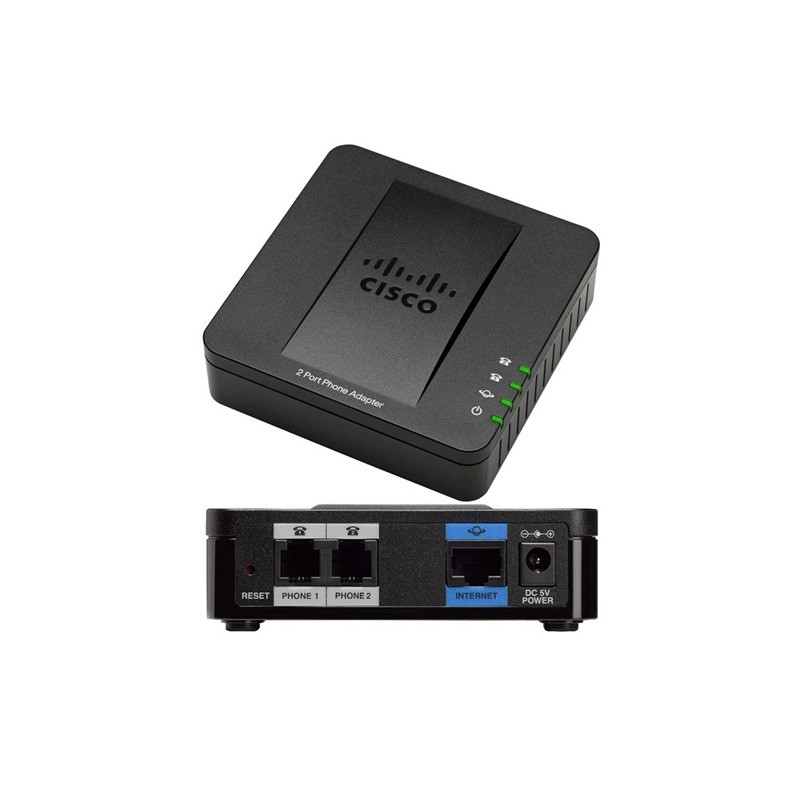  
Cisco Call Box
With the dT call box you can use your phone over the Internet, without compromising on voice quality or phone and fax features. The Cisco 2-Port Adapter offers the benefits of high-quality voice over IP (VoIP) without the need to upgrade your existing analog phones.
NOTE: The applicable TAX will be applied when you specify your delivery address.

Security policy
Secure payments via Paypal, Credit Cards & Bank Transfer.

Delivery policy - Collect for FREE or Courier Service
You can choose to collect your products for FREE in our office in Adeje or select Courier for P&P.
The dT Call Box solution is a telephone adapter that allows you to enjoy the low cost calls service from Direct Telecom.  Even if you have FTTH (Fibre Optics)/ADSL or Alternative Internet Connection with another provider such as Movistar.  With the dT Call Box, you will be able to avoid the expensive call rates through the Movistar Fibre or alternative internet provider, which can no longer be bypassed using traditional prefix methods.  The dT Call box simply needs to be connected to your Fibre/ADSL or Internet based router and you will be able to connect your analogue telephone to the dT Call box.  All calls made will appear on your Direct Telecom invoice

Easy to install and use, the call box works over an IP network to connect anaolg phones and fax machines to a VoIP service provider.

The Cisco Call box is compact in design and compatible with International voice and data standards.  It can be used with residential, home office and small business VoIP service offerings, including full-featured hosted or open source IP PBX environments.

 

The Cisco 2 Port Adapter:

Uses advanced voice quality-of-service (QoS) capabilities and the voice Session Initiation Protocol (SIP) stack
Supports reliable faxing with simultaneous voice and data use
Includes two standard telephone ports, each with an independent phone number, for use with analog fax or phone devices
Is compatible with all industry voice and data standards and common telephone features such as caller ID, call waiting, and voicemail